2019 Rangers Player Report Card: Neal Pionk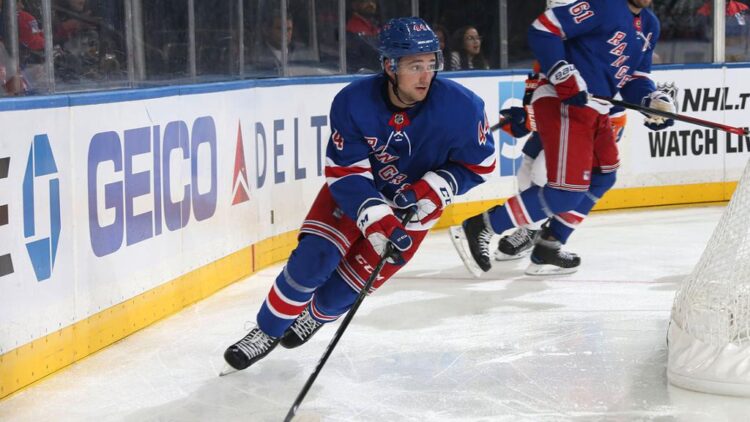 When the Ranger signed Neal Pionk as an undrafted free agent, he was viewed as one of their better undrafted free agent signings in a while. After a 28-game late season stint with the Rangers in 2017-2018, Pionk played his first full professional season this year, and got off to a very hot start. But even with the points, it was clear from the start that Pionk was struggling mightily. When the bottom started falling out, Pionk's game away from the puck began to show more clearly, and by the end of the season became very obvious to all fans.
It was interesting, though, seeing the perception of Pionk evolve throughout the season. In November I ran this post comparing Pionk to Tony DeAngelo, and most preferred Pionk. Now it is May, and it seems to be an almost unanimous preference to DeAngelo now. And it isn't unwarranted.
Pionk had easily the worst numbers in the non-Staal division. His xGF% of 45.04 barely beats out Staal's 45.93, and is almost two full percentage points behind the third worst Brady Skjei. His splits were a measily 1.96 xGF/60 and a horrible 2.94 xGA/60. Not only is he not generating even strength offense, he's a black hole on defense. It's worth noting that his 6-20-26 line was actually just 2-7-9 at even strength, with only one primary assist. Three primary points at even strength is simply not good.
Yet despite all this, David Quinn inexplicably kept using him as a 1RD both at even strength and on the penalty kill. I want to focus primarily on that impact and his impact on the powerplay, since he's been relied upon by this coaching staff in both scenarios. First the powerplay with Pionk:
It's not like the Rangers had a good powerplay, but this is exceptionally bad with a vacuum in front when Pionk is up top, which lets us reason that shots simply aren't getting through from the point and the puck movement is lacking.
Now a grain of salt is required, as this became the top powerplay unit after DeAngelo took it over. More shots from in front. Significantly higher threat level. Just overall better. Pionk on the powerplay is likely not the best solution. But if he's ok on the penalty kill, then we should be good, right?
Oh dear god my eyes.
Ok this is better. It's not great, but if a picture is worth a thousand words, this pair only needs a few: Keep Pionk and Staal off the penalty kill.
The good news is that Pionk still has room for improvement. Aside from the fact this was his first pro year, his numbers were so bad the only place to go is up. As the Rangers get more stable and better players, it will push Pionk down the lineup into a third pairing role without significant PK time. I'm intrigued to see if that, coupled with a full year of adjustments under his belt, he improves.
That said, if the choice is keeping him or DeAngelo the answer is easy.
Grade: D
Categorized: Players