Finding suitors in an Alex Georgiev trade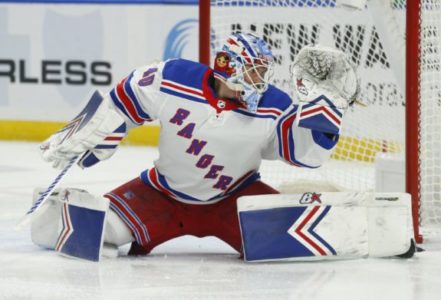 Teams need goaltending. They always have, and they always will. Especially come playoff time. The Rangers may have the best option available for most teams, as an Alex Georgiev trade would give teams an immediate and potentially long term starter. But the market for goalies is impossible to predict, and even harder to gauge. That's why we won't be trying to figure out trade packages, just teams that could fit.
Before people jump and say "Georgiev stinks" or whatever the rub, let's look at some splits for this season:
Games with 0 days rest: 2-0-0, .907 SV%
Games with 1 day rest: 1-3-0, .925 SV%
Games with 2 days rest: 2-1-1, .922 SV%
Games with 3+ days rest (basically he's the backup): 2-3-1, .867 SV%
Georgiev thrives as a starter with a regular workload. He is not a backup goalie, and his numbers are skewed because he's the backup in New York. The backup role is actually holding him back. The kid is in a tough spot, and he can handle the workload. The thing is, because he's the backup, his numbers aren't what they could be. But teams aren't dumb, and they see he could/should be a starter.
The Rangers also can't afford to keep Georgiev and his $2.65 million qualifying offer. So they have to either move him at the deadline for a decent package, or at the draft for far less. Leverage matters in this scenario, and it also works against the Rangers in any deadline move. The minute they trade Georgiev, the price for a replacement backup goes up. The second they trade for a goalie, the return for Georgiev goes down. It's an interesting dynamic.
Edmonton Oilers
The Oilers are clearly the team with the biggest need. There's only so much longer both Leon Draisaitl and Connor McDavid will last with the awful goaltending they have. Goaltending is likely the main reason why Edmonton is barely in a playoff spot right now. An Alex Georgiev trade gives them a goalie for the run this year in a pretty open division, plus some stability in the future.
The surplus in Edmonton is middle-six forwards, which happens to be a need for the Rangers. I've mentioned Kailer Yamamoto before, and he's a C/RW that could easily be a third line upgrade. But is that a fair swap? Again, the goalie market is like the stock market. Nothing makes sense, logic is out the window, and it's a giant Ponzi scheme.
Colorado Avalanche
The Avs are a very well run team with a pretty decently sized goalie issue. That's not to say they have an immediate need, as both Darcy Kuemper and Pavel Francouz have solid numbers this year. But both are on the wrong side of 30 and are UFAs. The Avs may be looking at a need for a younger, cost controlled goalie sooner rather than later.
The good news for the Rangers is that this deal can have a built-in backup swap in Francouz (10 games started, $2 million cap hit) in an Alex Georgiev trade. There isn't much of a surplus for the Avs though, which makes you wonder what else the Rangers can/would get.
An interesting bit: The Rangers would actually be able to retain salary on Georgiev to help Colorado's cap situation, for the right price, of course. Just an added wrinkle.
Washington Capitals
The Caps need goalie help. One of the running jokes is they need Braden Holtby back. The only somewhat reliable goalie they have is Vitek Vanacek, who does have some solid numbers this year, but had some pretty rough ones last year. This is admittedly a bit of a stretch, but there could be a need for Washington.
It is highly unlikely there would be an Alex Georgiev trade to Washington at the trade deadline. This is a team the Rangers might face in the first round, after all. If this does happen, it's at the draft.
The trade fit is also a big question mark, as the Caps have a lot of money tied up in their forwards. This is likely a no-go.
Chicago Blackhawks
Another potential suitor that makes more sense at the draft, the Blackhawks are in tear-down mode and have made almost everyone available. Marc-Andre Fleury is a pending UFA, and he'd certainly be an interesting backup option for the Rangers. They are also the only team that can take the full contract right now. Does Drury find more value in trading Georgiev in a package deal to land Fleury as a backup and the rumored target in Ryan Carpenter? This wouldn't be a one-for-two deal, but it would certainly be a trade that catches everyone off guard.