Tony DeAngelo started fight with Alex Georgiev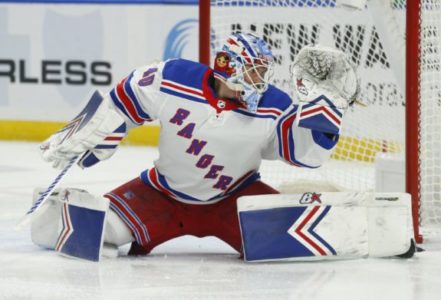 Just hours ago, the NY Rangers shocked everyone by putting defenseman Tony DeAngelo on waivers. Details are coming in. What we know is that Tony DeAngelo started a fight with Alex Georgiev in the tunnels after last night's loss. The pair had a miscommunication that led to Sidney Crosby's winner:
That is what we know so far.
The rest is what has been rumored. It sounds like Chris Kreider intervened and punched DeAngelo in the face, ending the altercation. This part is unconfirmed.
Update: Per Adam Herman, this had been brewing for a while. A number of teammates had grown tired of DeAngelo's act, specifically his treatment of rookie K'Andre Miller. Reports are that DeAngelo withheld Miller's puck from his first goal. This does not appear to be the first encounter between Miller and DeAngelo either.
Additionally, sources have told Blue Seat Blogs' Brandon Cohen that there has been a divide in the locker room regarding DeAngelo. Some thought that DeAngelo was a lovable goofball, while others thought he was a real problem. It got to a point where some were upset Jacob Trouba got an 'A' over DeAngelo.
It sounds like the fight between Tony DeAngelo and Alex Georgiev, with Kreider's intervention, was the last straw.