Believe it or not: The Rangers are in the playoff hunt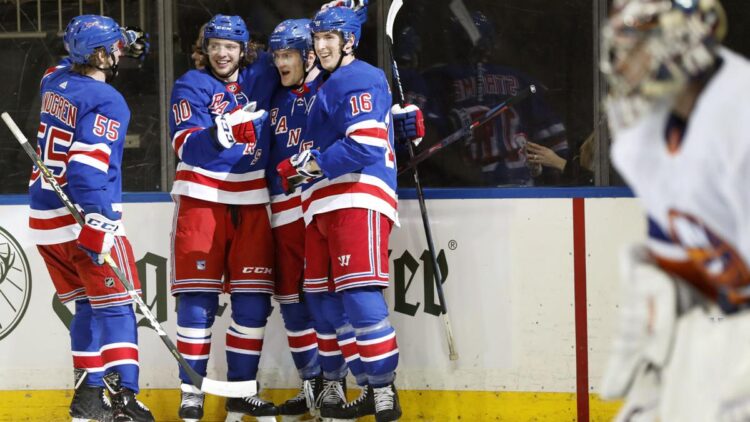 In case you missed it, and I'm not quite sure how you could have if you're a blog reader, the New York Rangers are making noise in the playoff race. The Blueshirts are 9-1-0 in their last ten games and 12-3-0 since the All Star break.
Just two weeks ago, we were talking about how the Rangers should embrace a strategic sell off, as they needed 38 of 54 points remaining in the season to get to the magic number of 98 points. That was 70% of possible points, or 1.4 points per game. It was possible, but not probable.
Clearly they read that post, as they've gone 7-1-0 since. They sit two points behind Columbus for a wild card spot and have three games in hand. Their current 74 points is 24 away from that 98 point threshold with 19 games (38 points) to play. That is now only 63% of points needed, and an average of 1.26 points per game. In just two weeks they've increased their playoff chances dramatically.
The Rangers now sit at a 41% chance of making the playoffs up from less than 10% heading into the All Star break. Helping their odds is not only their recent run, but the 34 regulation/OT wins, tops in this wild card race.
The Rangers are getting national attention for this run and are drawing comparisons to the St. Louis Blues, who went from worst to first last season. Now there are stark contrasts between those two teams, most notably the hole the Rangers have on the left side of the defense, but it's human nature to compare the two.
The last two games, with the Rangers missing Pavel Buchnevich, have been wins where their goaltending has had to steal the games. However it has been quite some time since we've had to say that. The process will get better once Buchnevich, whose absence has been felt, is back in the lineup.
This Rangers team is taking everyone, including the fans, by storm. They are finding ways to win, either by great process, great goaltending, or just gutting it out. Based on their October/November performance, the playoffs seemed to be a joke.
Now who's laughing?