Can (Should) the Rangers pull off a trade and re-sign with Kevin Hayes?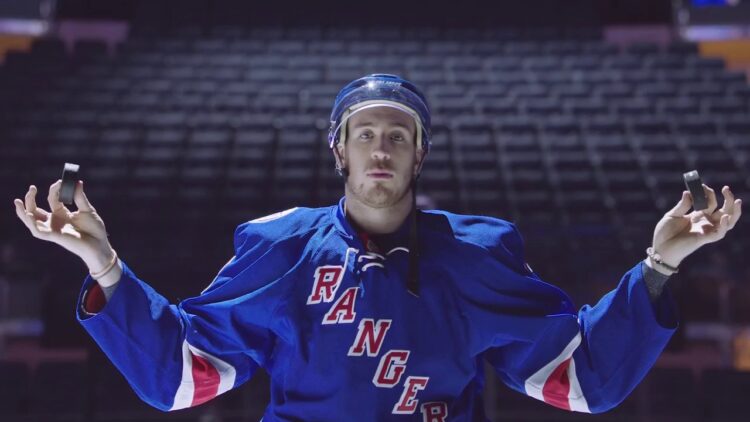 One of the bigger stories heading into this season was that of Kevin Hayes and his one-year contract. A one-year contract on a rebuilding team is a giant sign saying "I'm getting traded." It makes sense, as the Rangers have a bunch of centers who will be vying for that 2C or 1C role. With Mika Zibanejad already locked up, Hayes' fate seemed sealed.
The 26 year old center is set to hit free agency at 27 years old and will be extremely coveted. Hayes has stepped up his game this year in an expanded role, showing he can play all three strengths effectively. He's been arguably the best forward/skater on the team thus far. All this spells big time rewards at the deadline for the Rangers, if they decide to move him.
But therein lies the conundrum. Nothing is guaranteed with Lias Andersson or Filip Chytil. Both may flop (unlikely). Both may become elite superstars (also unlikely). Both may turn into top-six/top-nine players (very likely). But the biggest question mark is where they wind up in the lineup. Will they both be centers? Chytil has been a wing for a while now and is currently thriving. Is that Andersson's future as well? If so, then if Hayes is gone, who's the 2C the Rangers would then desperately need?
Brett Howden's name has come up, but he's slowed considerably since his hot start. He might hit the potential for that role, but he's no guarantee (sensing a theme). For a team with such promising talent on the horizon, with Hayes gone, there is no insurance plan in case one or all three do not pan out.
Which brings us back to Hayes. All logic tells us to trade him while the getting is good. Winnipeg should be able to shell out a first rounder and a solid prospect, and possibly more, for Hayes' services. Vegas might be able to do the same. Ditto Boston. But can the Rangers do a little wink-wink, nudge-nudge with Hayes? Trade him and re-sign him, a la Keith Tkachuk and St. Louis in 2007?
Don't get me wrong, this entire thought process is borderline collusion. The Rangers can't have any kind of discussion like this without fear of major penalties (which, if we follow the New Jersey model, can be delayed three years, then reduced). It would certainly be in the Rangers' best interest to not only trade him, but keep him around. Even if all three prospects develop to their fullest potential, is there anything wrong with too much talent?
Of course all this depends on the contract Hayes will want to sign. Hayes' market value at 27 years old is probably around –and keep in mind I did not do any research into this yet, that's for a later date– six years and around $6.5 million. Can the Rangers afford to commit that much to Hayes, who would then be the highest paid forward on the team?
The best case scenario for the Rangers is trading Hayes and then re-signing him for a contract that has less term and dollars than the 6/$6.5m described above. But is that a realistic scenario? Likely not.
As much as the Rangers should attempt to trade and then re-sign Hayes, it looks like it is going to be one or the other. Should the Rangers trade Hayes? Or should they keep him? I don't think there's necessarily a wrong answer here.