Analysis
The Rangers are bad at faceoffs, but how bad is the effect?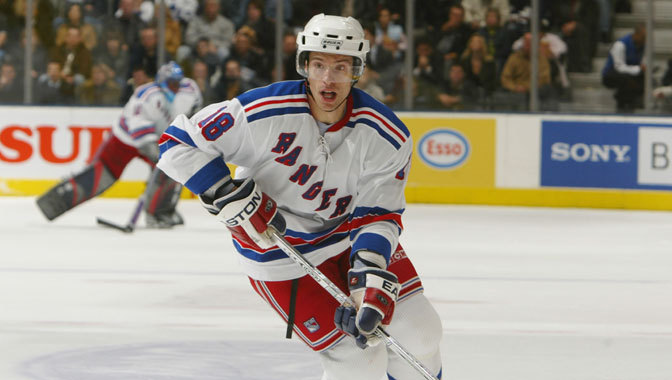 I'm sure you've noticed this by now, but the New York Rangers stink on faceoffs. They are at 47.2% right now as a team. Of the players that have taken at least 50 faceoffs, only Derick Brassard (55.4%) and Dominic Moore (53.3%) are above 50%. Martin St. Louis (43.6%) and Kevin Hates (24.6%, ouch) bring up the rear for players that have taken 50 faceoffs. Derek Stepan isn't a 50% faceoff guy, so his return won't really help in that department.
But how much does this affect the on-ice product?
Statistical Sports Consulting printed a study on the effect of faceoffs on goals, and the results are pretty interesting. They first measured the faceoff differential to yield a goal differential, then measured the probability of winning a faceoff (Note: Not 50/50, there's skill involved).
The first thing the study noted was that it takes about 76.5 more faceoff wins than losses to yield a single goal differential. At an individual level, we've seen that faceoffs can certainly lead to goals, and key faceoff wins are definitely important, given time and score situation. However at a larger level, the effect isn't so big:
A player must win about 76 more faceoffs than they lose in order to obtain a goal differential for his team. A team that moves from winning 50% of their faceoffs to winning 60% of them gains just over 12 goals per season which is equivalent to two additional wins.
These numbers came from determining the number of goals within 20 seconds of a faceoff win.
However, not all face offs are created equal, and the study went in to measure special teams faceoffs, which has a much higher influence on the game. That differential, per the study: 40.9, almost half. A faceoff in the offensive/defensive zone while on special teams: 35.4. At the team level, it's about when and where you win the faceoffs. The study went to the individual level as well, and noted that a player with a 60% faceoff success rate has a 3.13 goal differential, or one point in the standings on average (situation/zone dependent, as noted above at the team level).
Since the most impact comes from special teams, let's look at how the Rangers have done so far on special team faceoffs:
The first thing you notice is that MSL is the only player who plays powerplay on a regular basis that has a winning FO record. He's not even a center. That's not good. Even worse: The Rangers really only trust Moore to take penalty kill faceoffs. For all intents and purposes, neutral zone faceoffs don't have that much of an effect on goal scoring, at even strength or on special teams, so I'm not going to really go into them.
This isn't an exact science, since the real-time stats tracked by the NHL aren't known for being 100% accurate, but we can at least conclude that the Rangers will need to work on special team faceoffs. The faceoff differential to goal differential ratio is low enough that it can be a concern down the road.