#FuelTheTank takes control in late tie, overtime loss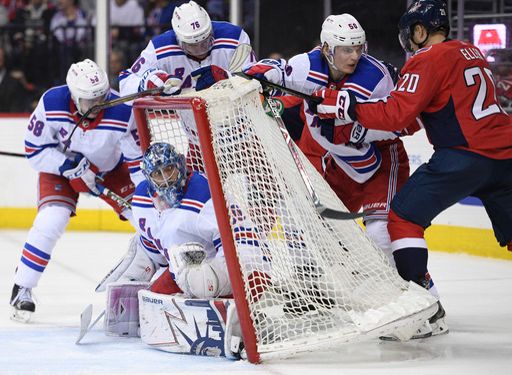 get link In stark contrast to Monday night's game, the Caps and Rangers played a tight one last night. Instead of the Caps jumping out to a big lead and then sitting back, they played a pretty tight game. The goaltending was solid, but both Henrik Lundqvist and Braden Holtby allowed weak ones.
clindamycin ratiopharm 600mg filmtabletten beipackzettel The kids played another pretty strong game. Neal Pionk, minus his gaffe at the end of regulation, had a spectacular game. Lias Andersson notched an assist. The team really turned it around after that poor first period on Monday, playing decent hockey for five straight periods. I'll take it.
http://kscglobalsolutions.com/de-grisogono-allegra-bracelet-prices.html On to the goals:
strattera 18 mg reviews forex trading on news Rangers 1, Caps 0
go Sometimes you just need some good bounces. Kevin Hayes was parked in front and got a shot off that went off the post, off Holtby's opposite skate, and then crossed the goal line.
cialis 5 mg preço farmacia https://digitrading.biz/it/opzioni-binarie/ opzioni binarie analisi fondamentale Caps 1, Rangers 1
tricor 215 mg dl Jimmy Vesey and Filip Chytil combine for a neutral zone turnover which turns into a 3 on 2 rush. Nicklas Backstrom dished to Andre Burakovsky on the wing, who put a wrister through Hank. In all fairness, the turnover caused the goal, but this is one we have become accustomed to Hank stopping.
renagel phoslo 667 mg order chloromycetin 250 Rangers 2, Caps 1
John Carlson turned the puck over in the high risk area right at the blue line, and the Blueshirts turned it into a rush. Ryan Spooner came down the wing, Kempny had some horrid gap control, and Holtby should've had that. At least the goalies traded goals they should've had.
lamictal 50 mg nebenwirkungen Caps 2, Rangers 2
Neal Pionk is on the ice blocking a pass and he's not even in front of Lars Eller. That was just bad by Pionk.
xalatan price in malaysia Caps 3, Rangers 2
Three on three OT giveth, three on three OT taketh. Evgeny Kuznetsov took the puck for what seemed like forever, then placed a wrist shot perfectly inside the far post.
The Blueshirts got a point in a strong effort, but in the end fueled the tank with a loss. They still sit with the 10th overall pick, and can feasibly get to 7th if they fuel properly. But at least the kids played well.
"#FuelTheTank takes control in late tie, overtime loss"

,