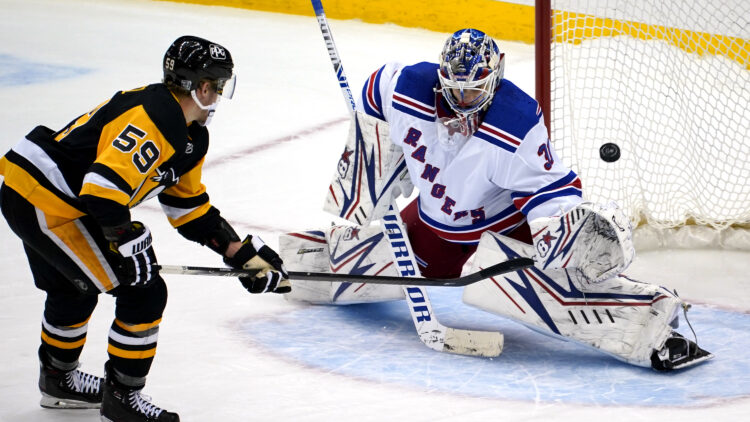 Pittsburgh Penguins' Jake Guentzel (59) backhands the puck over New York Rangers goaltender Igor Shesterkin for a shootout goal during an NHL hockey game in Pittsburgh, Friday, Jan. 22, 2021. (AP Photo/Gene J. Puskar)
With their win over the Penguins on Thursday night, the Rangers put a rubber stamp on the #3 seed in the Metro Division as they now look to figure things out for the postseason. The Rangers have a comfortable 10 point lead on the Penguins, whom they face tonight again, with no signs of slowing down. It would require an epic losing/winning streak by either team for these positions to flip at this point.
But that doesn't mean the Rangers are coasting. They still have business to take care of. The only important thing right now is finding (keeping?) the right line combinations for the playoffs. It seems they've found something in the current iterations, but there's still work to be done, making sure these are the right lines. They also need to have backup combinations in case of injury.
It's not entirely stress free hockey, but it's close.
Penguins Lines
Jake Guentzel-Sidney Crosby–Bryan Rust
Jason Zucker-Evgeni Malkin-Alex Nylander
Drew O'Connor-Mikael Granlund-Rickard Rakell
Danton Heinan-Jeff Carter-Josh Archibald
Marcus Pettersson-Kris Letang
Brian Dumoulin-Jeff Petry
Pierre-Olivier Joseph-Jan Rutta
Tristan Jarry gets the start.
Rangers Lines
Chris Kreider-Vincent Trocheck-Patrick Kane
Artemi Panarin-Mika Zibanejad-Vladimir Tarasenko
Alexis Lafreniere-Filip Chytil-Kaapo Kakko
Tyler Motte-Barclay Goodrow-Jimmy Vesey
Niko Mikkola-Adam Fox
K'Andre Miller-Jacob Trouba
Ben Harpur-Braden Schneider
Igor Shesterkin gets the start.
Injuries: Ryan Lindgren (shoulder)
Crazy Prediction: Shutout for Shesterkin.
Game time is 7pm.
Share:
Categorized: Game Thread