Pros and cons of a long term Lafreniere contract extension before the 2022-2023 season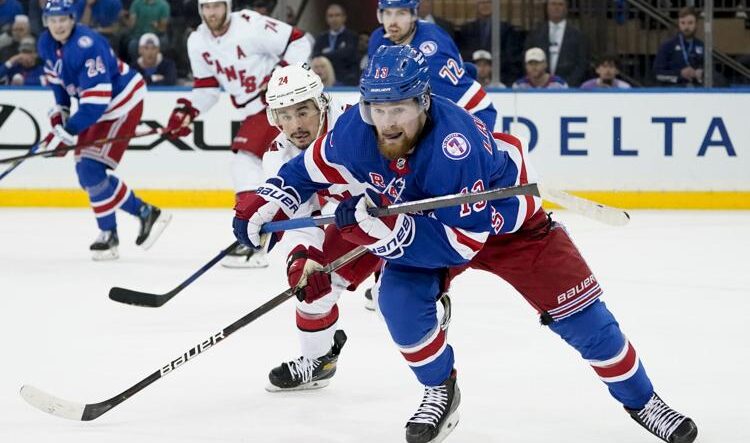 Aside from re-signing Kaapo Kakko, which will happen at some point, Chris Drury and the Rangers brass are done for the offseason. However we may get a surprise or two, most notably with an Alexis Lafreniere contract extension. It's highly unlikely to happen, but there is certainly a good argument to signing a Lafreniere contract extension now, as opposed to next offseason.
Pros of a Lafreniere contract extension
It is no secret that Lafreniere hasn't put up the points that many people had hoped for. Now there is significant nuance to this, as Lafreniere's rookie season was a Covid shortened season that saw many odd situations playout across the league. That was more of a teaser for the former #1 overall pick.
Last season was Lafreniere's first full NHL season, and again the point totals come up. Lafreniere had 19 goals and 31 points, playing mostly third line minutes. He had a stint on the top line to start the season, but didn't really find consistent linemates until the kid line was put together. He also had no real powerplay time, and no, 20 seconds at the tail end of a powerplay doesn't count.
For the Rangers, they'd have a big advantage if a Lafreniere contract extension is agreed to this summer. He simply doesn't have the points to warrant a big time contract. Lafreniere would likely find himself taking more money up front in the first 2-3 years, but might wind up leaving more money on the table in the back end of the deal.
Lafreniere is set to get top six minutes and likely top powerplay time. His point totals should skyrocket pretty quickly this season. If, and this is a big IF, the Rangers can get a long term (4+ years) Lafreniere contract extension in the $5 million  to $6 million range, it could become a massive bargain when the Rangers need cap space the most.
Lafreniere extension drawbacks
There are many good reasons to sign Lafreniere long term now, before his point production seemingly explodes. But nothing is set in stone. For all we know, Lafreniere may not thrive on the top line and on PP1. He may have difficulties adjusting to tougher competition and more defensive responsibilities.
If he struggles, then the above dollar amount on a Lafreniere contract extension may wind up being a detriment and a cap killer. Given where the Rangers sit with the cap, they need to get their contracts right. This kind of extension isn't without risk, and it may be a risk that Drury is unwilling to take at the moment.
Also consider that Lafreniere is slated to shift to RW, or at least that's how it appears to be playing out. There's a reason why he was moved off 1RW last season after a few games, even if we were never really told why. If Lafreniere is unable to work through whatever it was, then we may have the double whammy of lacking production and paying big money for what amounts to a 3LW currently.
Some may view these as minor risks, but even minor risks have a real possibility of negative impact. The Arizona Coyotes and all those long term deals are an example of watching a team implode because of poor contracts handed out to the wrong players.
Even if it's perceived as the right move, it can look bad for a bit. Just look at Clayton Keller.
Most realistic scenario
The Rangers aren't a difficult team to read. They may be difficult to get concrete rumors, but if you view their history, they aren't hard to read.
It is exceedingly rare for the Rangers to give long term deals to forwards after their ELCs expire. Two year bridge deals are the norm for a team that routinely gets up to the cap ceiling. This is a vicious cycle that is again playing out with a Lafreniere contract extension.
Lafreniere will most likely get a bridge deal instead of a long term extension. And then when (if) his point totals start looking like that of a #1 overall pick, the Rangers will pay him. It's a poor cycle of paying for what a player has done, instead of what they will do.
What the Rangers like to do, though, is give long term extensions to defensemen fresh off their ELCs. Perhaps K'Andre Miller fits that bill?