BSB 2022 Conference Finals Predictions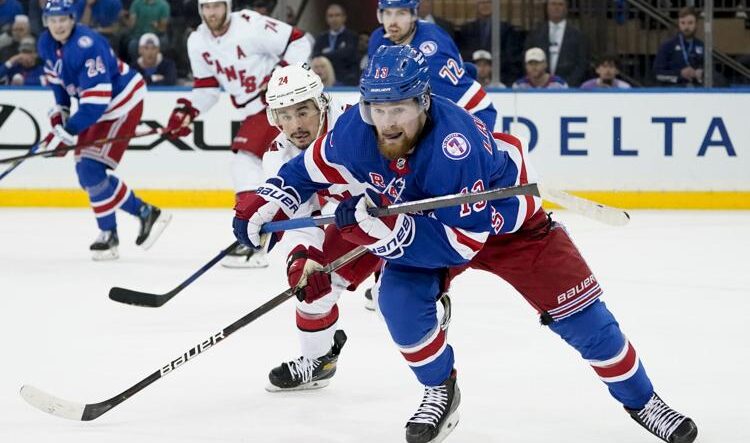 Our staff has been pulling together predictions all throughout the playoffs and it seems silly that our little team, whose best stat has been friendship and vibes per 60, is one of the four remaining teams. Are we a bunch of homers? Maybe. But check out our conference finals predictions and, as always, share your predictions in the comments!
Oh, and LET'S GO RANGERS
Eastern Conference Finals Predictions: Tampa Bay Lightning vs New York Rangers
Rob L.: NYR in 7
So normally I would mentally twist myself into seeing no way the Rangers can win this series, but we're going full opposite George for this one. The Bolts are good, do not get me wrong, but honestly when I see those centers of Paul, Colton, and Bellemare (who are not out of place, necessarily), it just doesn't do it for me.
Cooper has also balanced their D-pairs well to hide their two weaknesses in Bogosion & Foote, but with NYR playing better across all four lines they won't be able to hide the entire series. And finally, while Tampa has generated decent xG For during the playoffs, it's mostly coming through High Danger chances while their overall Corsi (shots) for are far lower. This could benefit NYR if Tampa can't get going as a unit, as hopefully they can generate more at 5v5 like we saw in Game 7 at CAR.
Russ: NYR in 6
The New York Rangers have defied all the odds this postseason so far and basically made every hockey analyst look like fools. They've ridden clutch goaltending and timely scoring all the way to the Eastern Conference final and they now have the task of dethroning the back to back Stanley Cup Champions. Shesterkin vs. Vasilevskiy is going to be marvelous to behold and the Rangers just seem to be the team nobody wants to run into right now. It's going to be a war but behind the talents of Shesterkin and their top stars, the Rangers will be the ones that finally take down the Lightning and advance to the Stanley Cup Final for the first time since 2014.
Becky: NYR in 6
Because the Rangers are playing loose, fun hockey, adjusting to their opponents and just beat the stat darling Hurricanes. Because the kids are more than alright – they're downright fantastic. Because we have Igor Shesterkin. Because Artemiy Panarin is due to break out. Because the Bolts eventually need to lose a series. Because why the F not?
Rob C.: NYR in 7
This is Tampa's 7th appearance in the Conference Final in the last 9 years, and they are obviously back-to-back Stanley Cup champions, on the verge of cementing their legacy as a true dynasty. They will be the most complete and difficult opponent the Rangers have faced in these playoffs. All that said, I love their chances.
Tampa doesn't play with the flare and unpredictability of the Penguins, or the all out relentlessness of Carolina. They're a defense-first team that, though folks are reluctant to say it for some reason, relies pretty heavily on its goaltender. Yes, Tampa has the edge behind the bench, on the blue line and even in goal, but the Rangers' game-breaking talent is better built for this challenge than Toronto's or Florida's. These games will be close, decided by a power play here, a bounce there. Home ice will be the deciding factor, with the Rangers stealing one on the road.
Conall: NYR in 7
Pretty crazy we are still doing this. No brayden point is a huge blow to Tampa's depth. To my that's the difference in the series which depth guys are going to make a play when it counts. It won't be easy but the lightning gotta lose at some point. Rangers in 7. Why not us?
Dave: Rangers in 5
Why not us?
Western Conference Finals Predictions: Colorado Avalanche vs Edmonton Oilers
Rob L.: COL in 6
While part of me does want to go EDM in 7, I truly do think the Avalanche are the most well-rounded team left in these playoffs (not a hot take). While depth will certainly play a role here, the biggest difference maker in this series is that MacKinnon & Rantanen can run equal to McDavid & Draisaitl as a whole.
The one risk for COL is their own goaltending and the Oilers knack for High-Danger Chances for due to their top six star power. While STL & NSH are not good teams offensively, the Avs have given up very little in terms of shots/chances against in two rounds, so if they're able to slow the Oilers top six this one should be done before seven games.
Russ: COL in 6
This is going to be a high scoring, high flying, pedal to the metal type of playoff series. Nathan MacKinnon vs. Connor McDavid is the battle to watch here as two of the top five players in the NHL will do battle. There will be speed and skill on display almost every single shift with Leon Draisaitl, Cale Makar, Darnell Nurse, Gabriel Landeskog, Mikko Rantanen and Nazem Kadri flying around the ice also.
The Oilers are good and possess the best player in the world but the Avalanche are deeper and have the better goaltender. When all is said and done, the Avalanche will stop Connor McDavid's historic playoff run and head to the Stanley Cup Final
Becky: EDM in 7
Mike Smith will continue to haunt my days and does anyone in the West play defense?
Rob C.: COL in 5
Kudos to the Edmonton Oilers for reaching their first Conference Final in the Connor McDavid era. McDavid and Leon Draisaitl have been otherworldly, and they now carry the weight of an entire nation as Canada's last team standing in these playoffs. Unfortunately, they're in for a rude awakening. A deeper team that can go toe-to-toe with them skill-wise Colorado is still the team to beat out west. The Blues – a very solid team – had trouble keeping their heads above water even though that series went 6, and they actually know how to defend. Edmonton? Not so much.
Conall: COL in 6
Avs are just the better team.
Dave: Avs in 5
Goalies are optional, apparently. Colorado is more well rounded, and Edmonton finally has their reliance on Duncan Keith exploited.
Categorized: Playoffs