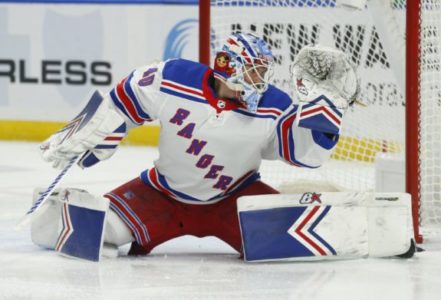 If one thing is certain about the Rangers goaltending situation, it is that Igor Shesterkin is the goalie of the future. At some point, the Rangers are going to begin finding suitors for a potential Alex Georgiev trade. It likely should have started last offseason, but it's hard to fault Jeff Gorton for keeping him around as an insurance policy. Now with the goaltending battle decided, it'll be Georgiev who is moved.
Any potential trade won't happen until after the expansion draft. There are teams that will move an asset for a 25 year old goalie with decent numbers. HIs .912 SV% in three years with very bad Rangers teams likely holds some level of value.
Edmonton Oilers
The first team that comes to mind is Edmonton. It's clear they are going to make deals they believe put them in a position to win. Whether or not those deals are logical, that's another story. There are also rumors the Oilers are looking to upgrade at goalie, with Mikko Koskinen being the only realistic option next season.
Edmonton is in an interesting situation following the Duncan Keith trade. They now have potentially have four defensemen they might need to protect. Keith carries a NMC and must be protected, but that is only if the clause is still in effect. There would need to be some creativity here, but there's a way for the Rangers to use the last defense spot as a trade chip here.
LA Kings
Jonathan Quick isn't good anymore. If the Kings truly want to compete it what looks to be a poor Pacific Division, they will need an upgrade. This is another team that is close to turning the corner, and a 25 year old Georgiev might be exactly what they need.
The Rangers and Kings actually sync up on a few wild ideas. There's potential for a prospect/prospect swap, as the Kings are flush with centers and the Rangers with defensemen. Georgiev could be a nice sweetener to get a solid center prospect in exchange for one of the Rangers defense prospects.
Buffalo Sabres
Buffalo needs everything. Georgiev would be the instant starter and best goalie on that team. Like Edmonton, there's potential for a Georgiev only deal. Of course that doesn't mean Georgiev can't be used in a larger deal for Eichel or possibly Sam Reinhart.
If there are any suitors that could make a strong run for an Alex Georgiev trade, it would be Buffalo. There are multiple trade scenarios for this to work for both teams, even if the big trade(s) fall through.
Toronto Maple Leafs
The Leafs have a goaltending issue, in the sense that as of now it's just Jack Campbell. That's no disrespect to Campbell, who put up a solid year with the Leafs. However he only played 22 games, and he will be turning 30 and is a UFA at the end of next season. He also doesn't have a track record of .920 SV% seasons. Then again, neither does Georgiev.
The Leafs are more of a dark horse than a true suitor, as it really depends on how they evaluate their goaltending future.
Share:
Categorized: Offseason