Like it or not, the Rangers need to re-sign Neal Pionk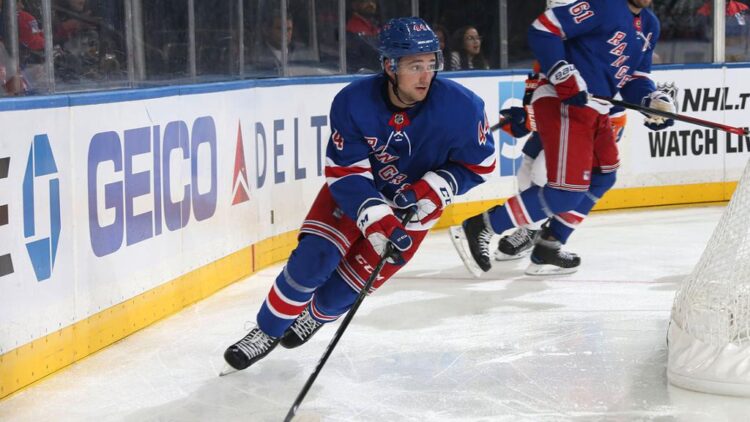 The Rangers have a problem evaluating defensemen. That shouldn't come as news, as most NHL teams seem to have this problem as well. The biggest gap between stats and on-ice value is with defensemen, and it's really not that hard to provide examples. Marc Staal is still a valued defensemen despite his stats. Adam Clendening is a stats darling and can't keep an NHL role. Those are just two examples on the Rangers, but there are countless examples like this.
Despite the gap between stats and eye test on defensemen, the one thing that we've seen from the Rangers this season is a constant desire to give Neal Pionk top pairing ice time. Pionk, if you recall, got off to a great start on the score sheet, which masked a lot of poor possession stats. Then the scoring dried up, the possession numbers stayed the same, and the rose colored glasses came off. His issues in the defensive zone were front and center, despite the MSG hype machine.
Let's put this bluntly: Neal Pionk is bad. He's the worst defenseman on the team when it comes to xGF% at 44.44%, a full 2% lower than both Brady Skjei and Staal. It may not seem like much, but over the course of the season it's about –if my math is correct– about 18 less expected goals for and 8 more goals against. That's a net difference of 26 goals. That's…not good.
Pionk is one of those rare players that actually didn't need me to go through the stats, since it seems that the general consensus is that he's bad in his own end. Since he's not scoring anymore and hasn't really driven offense all year, it's easy to say he's not doing anything offensively either. Compounding this is that, in a rebuild, improvement and development is what you want to see. We haven't seen any.
The fourth image from Rob's tweet here really highlights how bad it's been. Pionk is the worst defenseman at defending zone entries. He's not exactly excelling at driving zone exits or controlled entries in the way that Tony DeAngelo does, so we can't point to a specific aspect of his game that has been a net positive. Part of this is on David Quinn and his insistence on playing Pionk over 20 minutes a game against top competition. Rob has said it many times, the Rangers play better when he's getting third pair minutes. That is not a coincidence.
Despite all that, the Rangers still need Neal Pionk for two reasons:
They simply don't have anyone who is a legitimate part of the future that is ready for NHL work. Libor Hajek is still unproven. Ryan Lindgren was unimpressive during his first cuppa. Yegor Rykov is a wild card. Neither Nils Lundkvist nor K'Andre Miller are coming over this year. The Blueshirts need bodies. Pionk is a body. The need for bodies only intensifies if the Rangers are able to get rid of one or more of Kevin Shattenkirk, Brendan Smith, or Marc Staal.
There is an expansion draft coming in 2021. As it stands today, only Brady Skjei will be signed for the draft. The Blueshirts need two bodies signed through 2021-2022 to expose to meet expansion draft rules.
The good news is that Pionk's lack of points, pedigree, and consistency means he won't cost much term or actual dollars to re-sign. The undrafted free agent will get a contract and will make more than his $925,000 salary with the Rangers for a few more years. Whether you like it or not, the Rangers need to sign him to at least a three year deal to ensure they have a body to dress nightly and to expose in the expansion draft.
Now, whether or not you think the Rangers value Pionk as a defenseman, despite everything said above, is an entirely different conversation for another day. That day, though, is at least three years away. His next deal isn't the killer. It's the one after that.
Categorized: Players